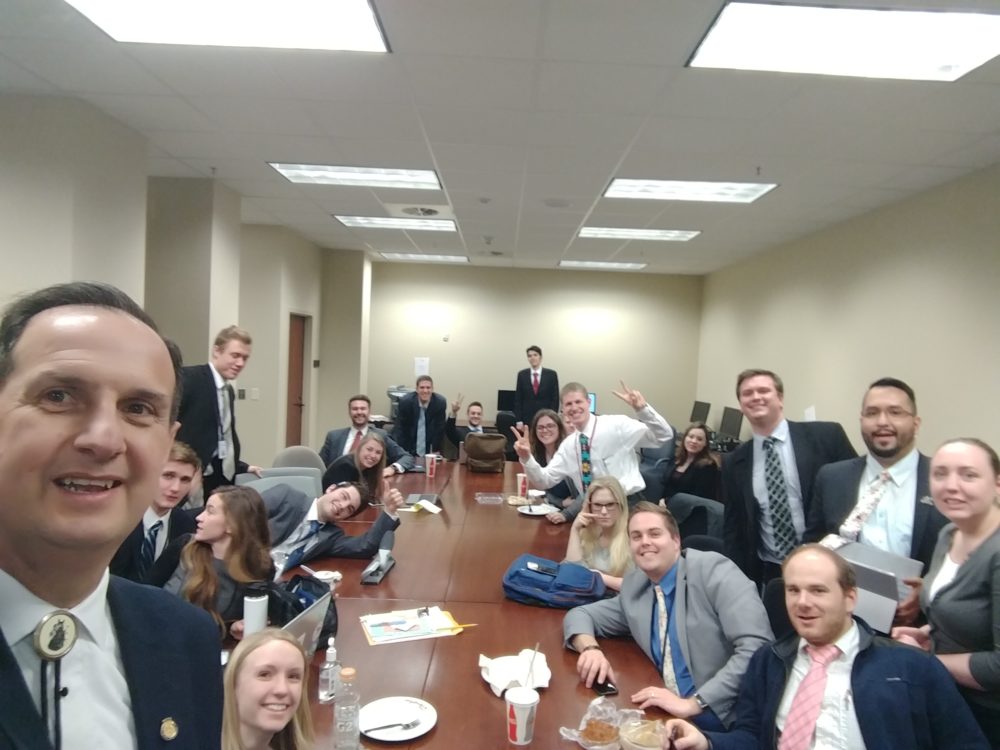 Constituent News
Visitors to the Capitol
I love getting visits from constituents.  This week, I was able to host more neighbors and friends on the floor.  Are you next?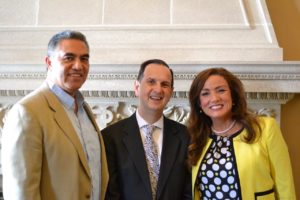 Michelle Kaufusi, Provo School Board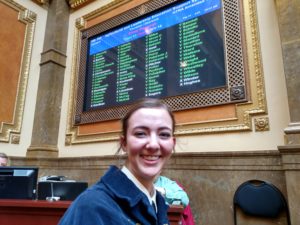 State FFA Officers came to watch the vote
on the FFA license plate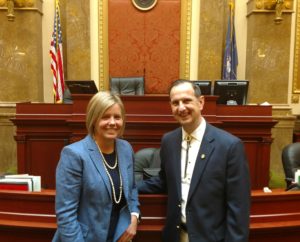 Kim Santiago, Provo City Council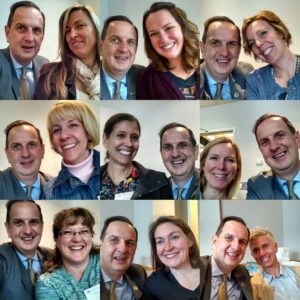 PTA Members from Provo & Springville
Break Time – A quick look at interactions that happen between meetings
Beverley Taylor Sorensen Arts Learning Program Luncheon
| | |
| --- | --- |
| Lunch with Sorensen Family | BTSALP student dance performance |
Utah Fire Caucus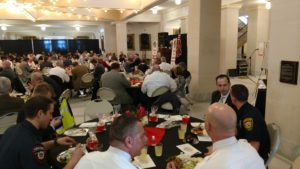 Lunch with Provo Fire & Rescue
Utah High School Art Show Winners
It was my pleasure to host the Utah High School Art Show winners at the Capitol.
| | |
| --- | --- |
| Recognizing Art Show winners | Sarah Hawkes with her winning painting |
Behind the Scenes Visit with Viviane Quintela, Univision 32
I was thrilled to host reporter Viviane Quintela from Univision channel 32 on a behind-the-scenes tour of the capitol.  You can see her report online here.
| | |
| --- | --- |
| Viviane Quintela filming the House Lounge | Behind the scenes on the House Floor |
My Bills – A status update
Finished Work
HB11 to make 28 boards and commissions non-partisan passed both the House & Senate and has been sent to the Governor for signing.
HB60 to update the state law's use of correct terms to refer to Deaf and Hard of Hearing people is with the Governor for signing.
HB192 to designate a section of Highway 85 as the Minuteman Highway passed the Senate without opposition and has been sent to the Governor for signing.
In the Senate
HB91 to modify County Commission elections will be voted on this week by the entire Senate.
HB127 to encourage health care consumers to look for lower cost care has passed the House and is now in the Senate.
HB155 (the DUI bill) passed the House with 48 votes! and is now in the Senate. Senator Adams and I are working hard to make our case to legislators about why lowering the BAC limit to .05 will save lives.
HB265 This bill to get rid of automobile safety inspections has passed out of Senate committee and has a Time Certain scheduled for next week on the Senate Floor.
HB343 This bill allows the Utah FFA Foundation to apply for a special license plate to sponsor scholarships for agriculture students.
Still in the House (but there is time)
HB298 should be heard in the House tomorrow.  This bill establishes that if a city or county wants to limit free expression on public grounds, they have to take specific steps so that everyone knows what the rules are and ensure that there is also a reasonable option available.  This is a great step forward for 1st Amendment rights in Utah.
HB331 promotes the concept of mobility in careers and professions.  It sets up a process for people who are licensed and have experience in another state to move to Utah and continue their profession.  We have a committee hearing this week and hope to get more input from my colleagues about how to decrease barriers to mobility.
HB308/HB309/HB310 is a set of three bills to simplify and update the requirements for vaccinations in schools and the process for obtaining and exemption.
Key Bill Tracker – Updates on some of the more notable bills to hit the House Floor
This bill changes the information that a woman is required to be given as part of a drug-induced abortion.  It ensures that she knows that even after taking the first part of the two-drug series, it is not to late to change her mind.
This bill provides that if a person is killed as part of a human trafficking crime the homicide may qualify as a capital offense.