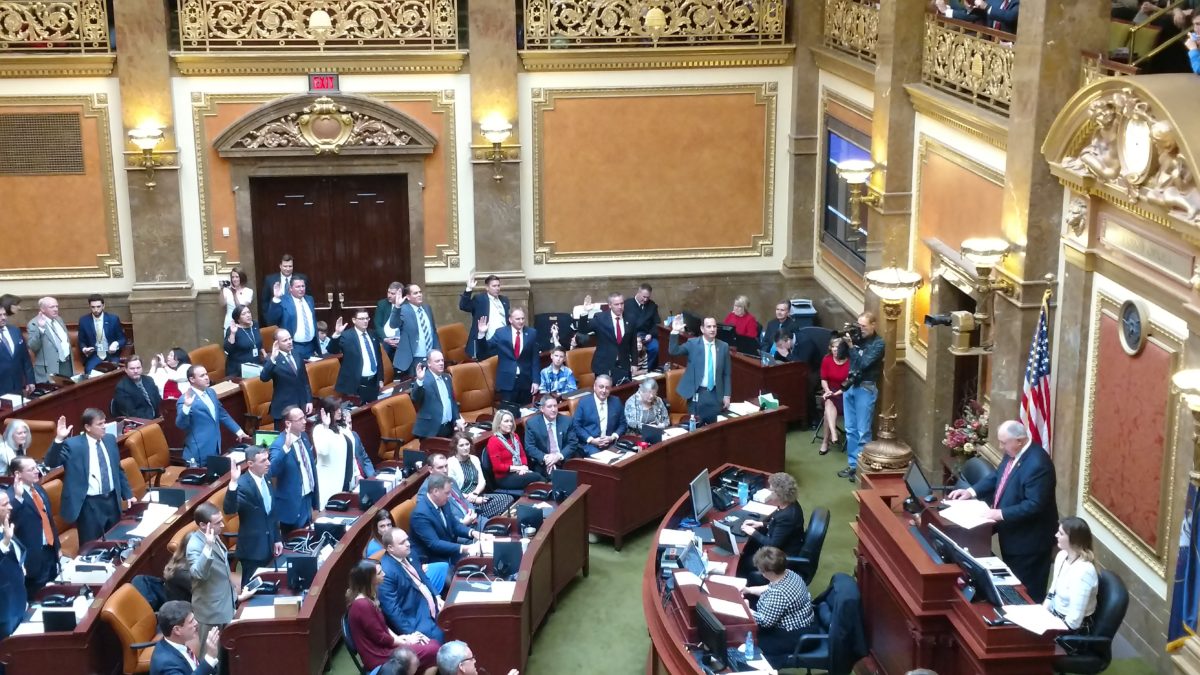 The first week of my second term has come and gone.  It seemed to have happened so quickly.  Here are a few thoughts and reflections.
Town Halls
This year, I have identified three dates for Town Hall meetings where I will be present.  The following events are sponsored by the local chambers of commerce.  These events include free breakfast and you are invited and encouraged to attend at least one of them.
Feb 4, 7:30 a.m. – Nebo School District Offices, 350 S Main, Spanish Fork
Feb 18 and Mar 4, 7:30 a.m. – IHC Northwest Plaza, Clark Auditorium, 1134 N 500 W, Provo
Coming to the Hill?
I love getting visits from friends and neighbors! I have already had a few visitors from District 64 on the hill, including Latinos in Action from Dixon Middle School and Barrett Raymond, who came up for Nurse Practitioner Day. Last year, many of you stopped by to see how the Legislature functions, get involved or just say, "hello."  If you are planning to come to the Capitol, please let me know the day before so we can arrange a time to meet and give you a chance to visit the House floor (and take a selfie if you don't mind)!
| | |
| --- | --- |
| | Barrett Raymond sat with me on the House Floor for Morning Floor Time on Nurse Practitioner Day. |
| | Lucy Ordaz brought her Latinos in Action students from Dixon Middle School for a tour of the capitol (and a lot of selfies). |
| | BYU Students Miranda and Briley came for BYUPAS speed mentoring. |
Legislative Involvement
It is important for me to hear from you during the legislative session.  You are encouraged to follow me on Instagram (@normthurston64) or Twitter (@normthurston) and Facebook (Norman K Thurston). If you want to reach out to me, the best way is to send me an email ([email protected]) or a text (801-477-5348).  I also welcome phone calls, but most of the time I am not available to take your call, but you can leave a message.
All voters from District 64 should take the 2017 Issues Survey
Big Issues
Week 1 has been quiet compared to the last two years in terms of "big issues" popping up.  I have added to my home page some thoughts on what may come up as well as a summary of the projects I continue to work on.  
Education Funding
The Public Education Appropriations Subcommittee has met twice already, and so far we have been going through required technical details.  We adopted a base budget which is a fall-back or safeguard. In case future budget negotiations fail, we agreed that we will essentially do the same thing that we did last year.  However, most of my colleagues agree that changes are needed and we need to work hard to come up with a better solution for the coming year.  Personally, I will be advocating for a higher prioritization of public education funding and more local control.
Convention of the States
So far, this issue has generated the most interest by my constituents.  
As a child I was taught that there are two ways amendments to the Constitution can be proposed.  They can start in Congress and they can start with the states.  Both routes mentioned contain safeguards. I believe that it is noteworthy that the founding fathers recognized that we can't always rely on Congress to take care of needed changes, and that the states have the right and ability to effect change.  So far, the states have never taken advantage of that power.  I believe that with power comes great responsibility, and states (and Congress) should proceed cautiously in making any changes to the Constitution.  
It is both necessary and wise that we as a country figure out and define the process for how states could actually use that power to safely and reasonably put forward needed changes that Congress has been unwilling or unable to make.  I have supported some efforts to do so and not supported others.  I will be looking closely at the organization and details before voting on proposals on this issue. I invite you to share your thoughts with me.