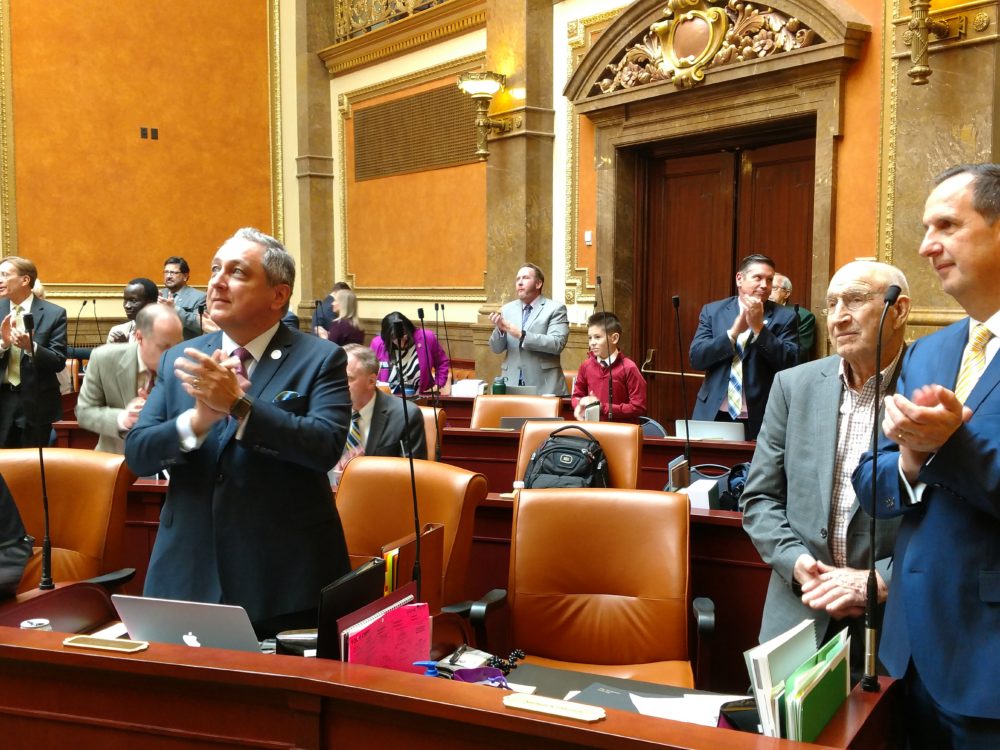 Here is a quick summary of an exciting Week 2.
Constituent News
Visitors to the Capitol
I always love hosting neighbors and friends on the House Floor.  This week's guests included our new mayor, Michelle Kaufusi, and my father and sister.   If you would like to visit the capitol, please let me know a day or two in advance so we can make arrangements to meet and give you a chance to visit the House Floor.
| | |
| --- | --- |
| Michelle Kaufusi, Provo City Mayor | Fred Thurston & Marilyn Garfield |
Break Time – A quick look at interactions that happen between meetings
Utah Chiefs of Police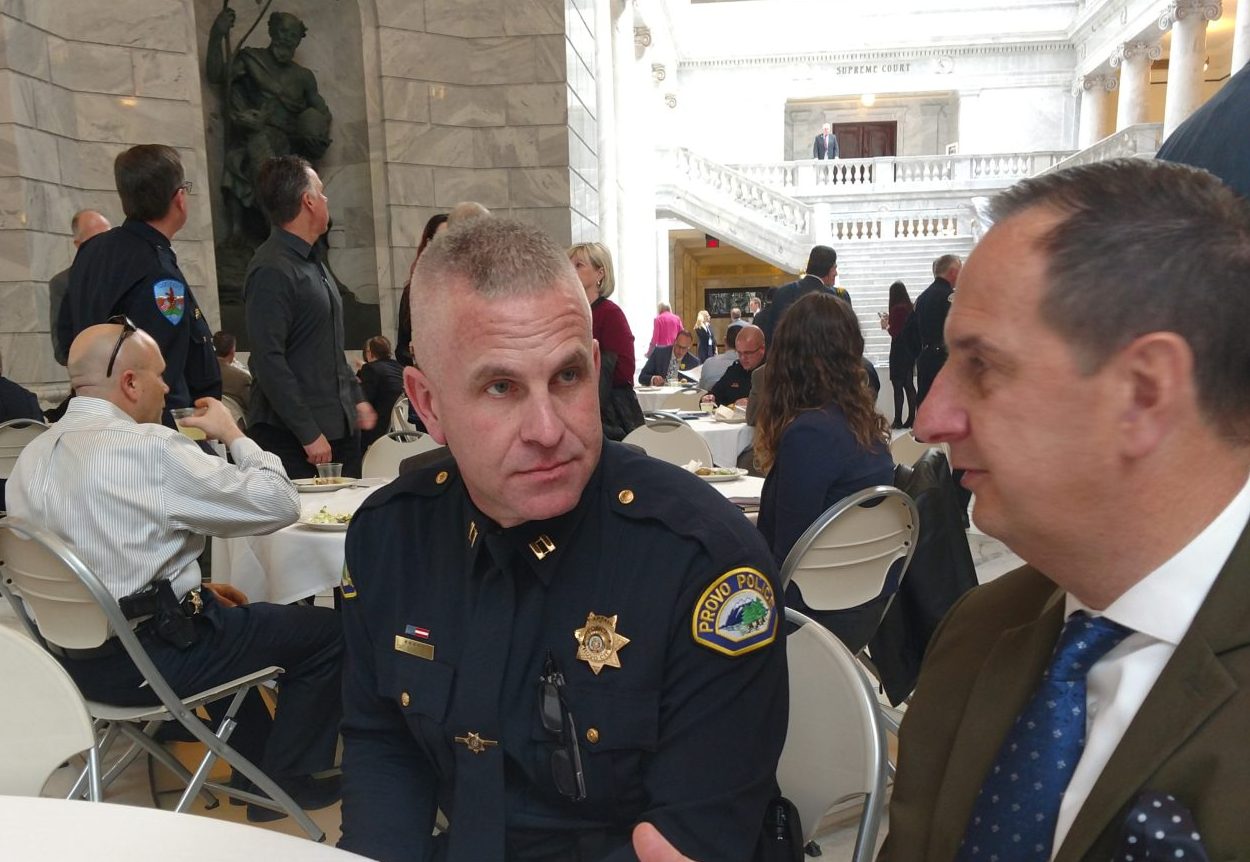 Captain Todd Grossgebauer, Provo City Police
Rural Day on the Hill
It was my pleasure to recognize 11 Utah families that have been awarded the Leopold Conservation Award for their conservation efforts as they have worked as landowners to protect the land, water and wildlife.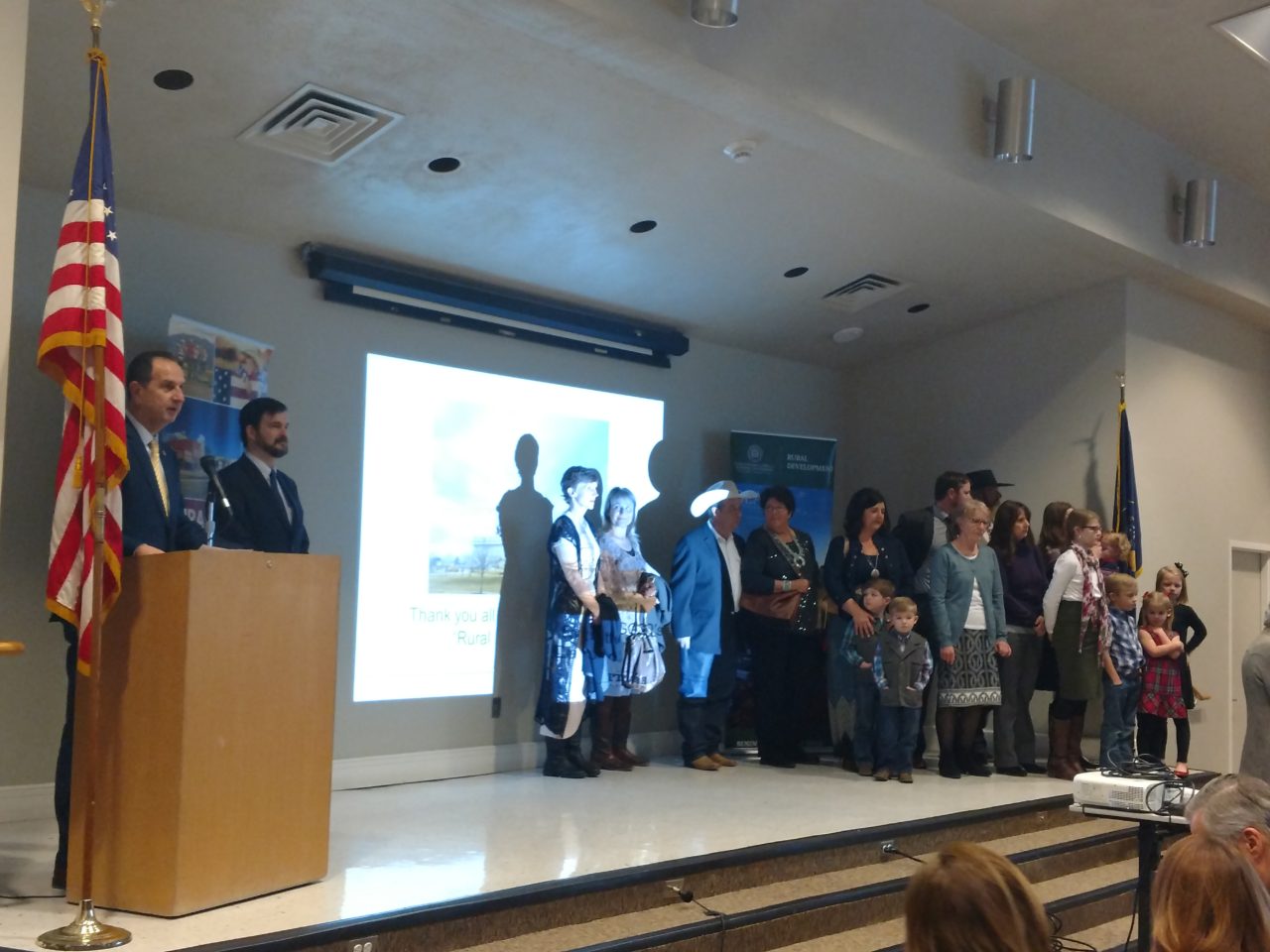 Leopold Conservation Award Winners
Working on the Drug Importation Bill
I was pleased that Jane Horvath was able to join me here in Salt Lake City to help legislators understand how importing prescription drugs from Canada could help lower costs and benefit Utahns.
Norm & Jane Horvath presenting HB163
Big Issues
While no huge issues have come to the forefront, one of my big ideas has garnered a lot of attention. HB163 would set in motion a process for the State of Utah to import lower cost prescription drugs from Canada. I think many of you are aware that you can buy several kinds of prescription drugs in Canada for a lot less (could be 90% or more) than they cost here.  In a nutshell, this program would bring drugs that are actually the same drugs sold here to your local pharmacy but with Canadian pricing.  The bill was heard on Thursday in the House Health and Human Services Committee and passed out with a favorable recommendation 9-2.  Let's hope we can keep this rolling and pass out of the House soon.
Tax Reform
There have been some rumblings of progress, but frankly, I'm not seeing much movement.  One proposal that I really want to see happen is a bill from Rep. Tim Quinn that directs the state to tax action to ensure that everyone gets the tax break they are due from the federal changes.  You may be surprised to find out that when you factor in state income tax, middle income families with 4 or more kids will actually pay more tax due to the federal reform. This is due to a quirk in how our state tax is calculated. Rep. Quinn's bill would fix that so these families would actually see some relief.
Budget
The Base Budget recommendations from all of the subcommittees were organized, prioritized and sent up to Executive Appropriations for final processing.  My committee put forward about $20 million or so in cuts from the base budget, which I thought was a little light.  I would have liked to see more savings up front from eliminating under-performing programs and projects. We will have final base budgets set by the end of next week.
My Bills – A status update
The progress continues
Here's a quick update of bills that are moving their way through the process.
Two bills passed both the House and the Senate and are off to the Governor for signing:
HB19 would create programs inside health insurance plans that reward members who shop for lower cost health care options by sharing some of the savings with them. 
HB34 clarifies that employees make take paid leave to assist with natural disasters with any agency, not just the Red Cross. 
A third will be out of the Senate shortly:
HB36 sets out a process and limitations for cities and towns that want to regulate free speech on public grounds. It will help ensure citizens' rights to free speech. 
Bills Moving in the House
HB115 aims to limit abusive lawsuits under the Americans with Disabilities Act by requiring that claimants give businesses a chance to fix problems before they demand money. I have been working with stakeholders to make sure this is narrowly focused on the bad actors and anticipate it will have a committee hearing soon.
HB162 allows a person that buys a used car to keep the license plates and not have to buy new ones. It passed committee and is waiting to be heard on the House Floor.
**HB163 would set up a program to allow wholesalers to import lower cost drugs from Canada and make them available to Utah's pharmacies. It passed out of committee on Thursday afternoon! This is a really big bill and I'm thrilled that my colleagues are seeing how this can make a difference in the lives of everyday Utahns.